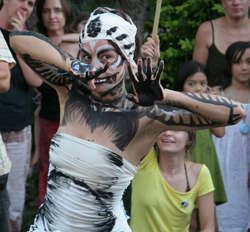 Kampung Street Festival
Chippendale 2006
Gang Festival and creative exchange is an artist-led initiative celebrating the deep links between Indonesian and Australian community arts. Gang Festival takes as its theme the Indonesian word for alleyway. It straddles a dual reference to small roads and particular social groupings; it refers to the space betwixt and between more permanent and conventional roads and roles. In Indonesian communities, 'gang', forms a critical artery in Kampung culture, where local trade and communities thrive in close proximity to one another. Gangs also evoke images of crevices, margins, and a rich density of peripheral culture. We also draw from the English meaning of the word to describe an exciting cross-cultural collaboration between a large number of art workers who situate their work on the margins of commercial art practice in Australia and Indonesia.

Entering its second cycle, Gang has designed a series of events and creative opportunities over the period from November 2007 to May 2008 to continue our community cultural development and extend the arts network of our city.